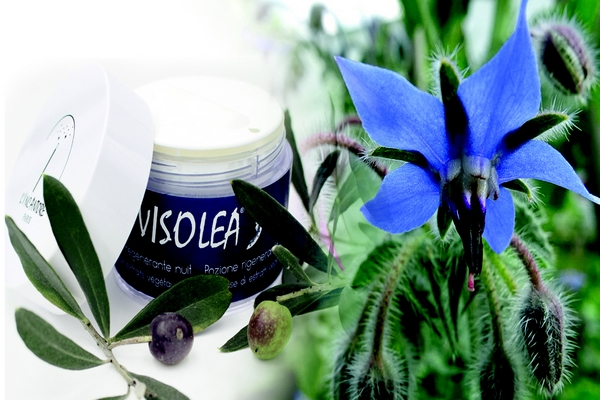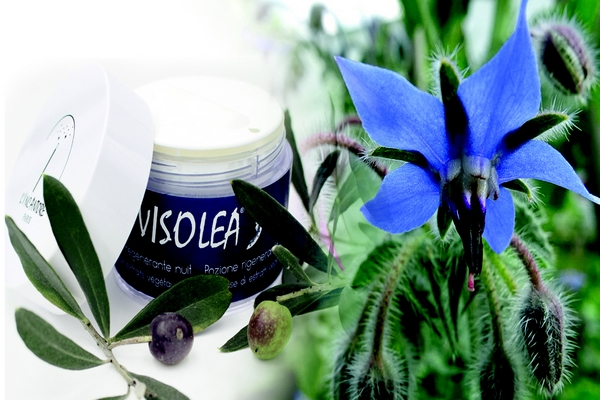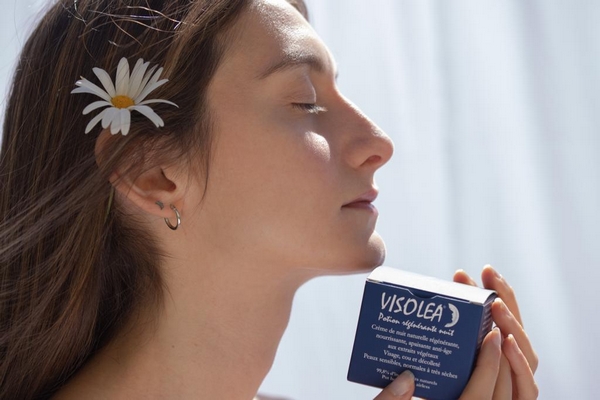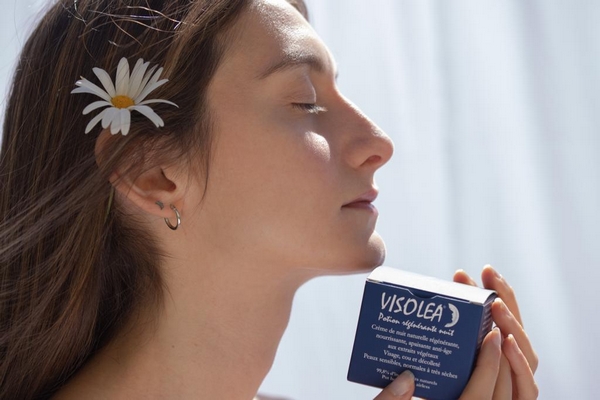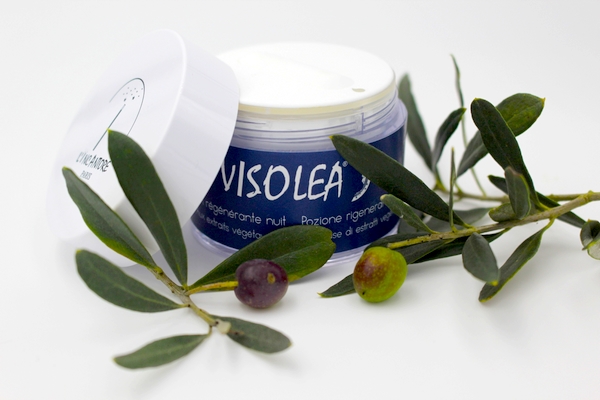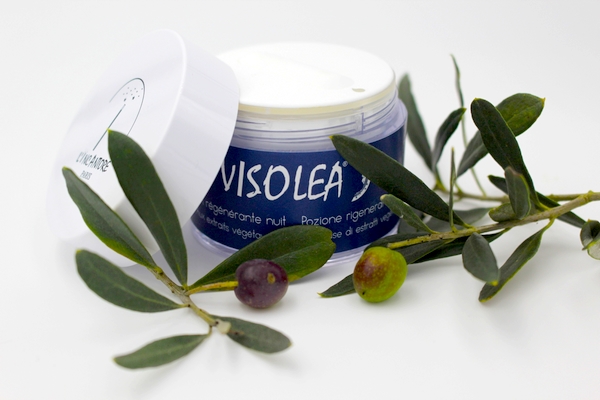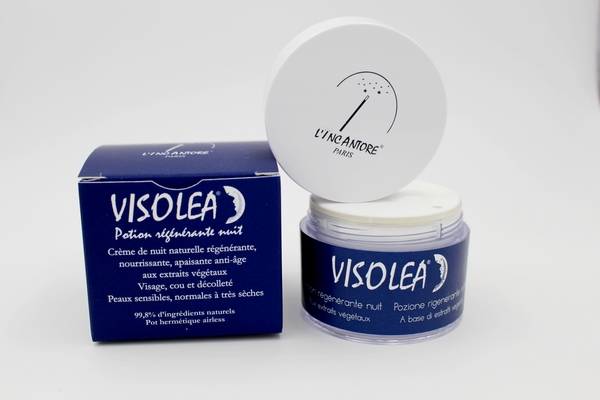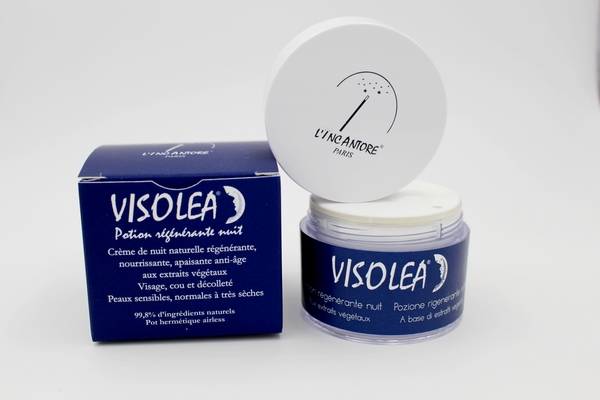 VISOLEA REGENERATING NIGHT POTION
49,80 €. From 2 Visolea regenerating night Potions bought, discount of 15 %  84,66 € the 2 jars !
Natural regenerating, nourishing, soothing anti-aging night cream with plant extracts for face, neck and neckline
Sensitive, normal or very dry skin
99,85% natural ingredients according to the standard ICEA (Istituto per la Certificazione Etica e Ambientale)
Hydrocarbon and animal derivatives free. Vegan-friendly
Note YUKA:  EXCELLENT
Airless jar 50 ml GTIN 3770019433003
Skin care formulated in France, made in Italy
Out of stock
Description
A regenerating and soothing cocktail of plant extracts to preserve the beauty and youth of your skin
At night the skin naturally regenerates and detoxifies itself thanks to the activation of microcirculation.
In order to help it in its night work and thus preserve its balance and beauty, Visolea Night contains horsetail, Centella Asiatica, green tea, Ginkgo Biloba extracts, resveratrol that, in synergy with other extracts, stimulate collagen synthesis and help to limit cellular oxidation and glycation responsible for skin aging.
Soothing, the night potion provides your skin with firmness, elasticity, hydration and well-being thanks to its borage, sweet almond, pomegranate and olive oils and its licorice and chamomile extracts.
Sensoriality and comfort of application evaluated by a test of use in 40 volunteer women between 30 and 70 years old with dry skin during 30 days of evening application:
Pleasant and immediate feeling of comfort upon application in 100% of women
Moisturizing and/or nourishing sensation upon applicationfor 80% of women
Supple andnourished skin in the morning upon waking for 92.5% of women
L'Ïncantore suggests helping naturally the skin regeneration (cell renewal) using substances produced from Nature.
99,85 % of natural ingredients
The oils and wax used in VISOLEA Night are exclusively vegetable, no refined mineral oil from the petrochemical industry, nor silicone oil or wax are used.
No animal ingredients are used. Vegan-friendly
The plant active ingredients give the potion its natural aroma and colour which can vary depending on the batch.
Visolea Night is not recommended in pregnant women (contains retinol).
Extracts of Centella Asiatica, Ginkgo Biloba, Horsetail, vitamin E stimulate microcirculation whose activity is increased during the night to allow oxygenation, detoxification, nutrition and regeneration of skin cells.
To restructure the protective hydrolipidic barrier that covers our skin and thus maintain a satisfactory level of hydration and flexibility, this skin care naturally brings us the essential fatty acids providing elasticity and softness that are contained in pomegranate, borage, olive and sweet almond oils, shea butter, vegetable wax.
Pomegranate oil and borage oil particularly rich in gamma-linolenic acid or GLA (omega 6) have a stimulating action promoting cell renewal but also an anti-inflammatory action particularly important on the skin.
Thanks to its optimal content of unsaturated fatty acids and its rich antioxidant substances: carotenoids, vitamin E, phenols, phytosterols and chlorophyll, olive oil protects, soothes, nourishes and regenerates the skin naturally. The olive oil used is produced in Italy in a small family farm according to traditional methods and is certified organic.
Sweet almond oil, rich in omega 9, will soften, soothe, nourish and protect the most sensitive or reactive skin.
Test of use to evaluate sensoriality and comfort of application during 30 days of application in the evening in 40 women between 30 and 70 years old with dry skin:
Pleasant and immediate feeling of comfort upon application in 100% women  
Moisturizing and/or nourishing sensation upon application for 80% of women
Supple and nourished skin in the morning upon waking for 92.5% of women
The synergy of Visolea Night polyphenolic and vitamin antioxidants helps to slow down premature skin aging.
Many polyphenols contained in vegetable extracts protect us from oxidation but also from glycation responsible for skin aging.
Horsetail extract helps to maintain the elasticity and firmness of the skin thanks in particular to the silicon it contains, a trace element essential for the regeneration of the components of the connective tissue.
Thanks to their anti-inflammatory properties, liquorice and chamomile extracts soothe sensitive or irritated skin by sun, cold and pollution.
The extract of clary sage brings an herbal and relaxing note to the natural fragrance of the night potion.
To enhance the antioxidant effects of polyphenols, Visolea Night supplies us with an anti-radical vitaminic photoprotective cocktail: retinol, C and E vitamins.
Vitamins help to stimulate cell renewal and collagen production, unify the complexion, improve skin microcirculation and strengthen the skin's antioxidant capacity against free radicals and ultraviolet rays.
Ingredients:
Aqua, Glycerin, Behenyl alcohol, Butyrospermum parkii butter, Arachidyl alcohol, Borago officinalis seed oil, Olea europaea fruit oil, Prunus amygdalus dulcis oil, Sodium gluconate, Jojoba esters, Tocopherol, Bertholletia excelsa seed oil, Copaifera officinalis resin, Equisetum arvense extract, Phyllanthus emblica fruit extract, Punica granatum seed oil, Resveratrol, Sodium ascorbyl phosphate, Hydrolyzed grape fruit, Helianthus annuus seed oil, Phenethyl alcohol, Arachidyl glucoside, Caprylyl glycol, Glycyrrhiza glabra root extract, Helianthus annuus seed wax, Camellia sinensis leaf extract, Cellulose, Lactic acid, Anthemis nobilis flower extract, Centella asiatica extract, Ginkgo biloba leaf extract, Caesalpinia spinosa gum, Maltitol, Acrylates/C10-30 alkyl acrylate crosspolymer, Cellulose gum, Glycine soja oil, Retinol, Chitosan, Curcuma longa root extract, Polyglycerin-3, Xanthan gum, Lecithin, Salvia sclarea oil, Linalool, Punica granatum extract, Ascorbyl palmitate, Citric acid, Geraniol, Limonene.
Ingredient in natural flagrance
As the list of ingredients used in products of l'Ïncantore can be updated, we recommend that you refer to the list on the packaging to ensure that the ingredients are suitable for your personal use.
Visolea night Potion is a natural regenerating, nourishing, soothing anti-aging night cream for face, neck and neckline.
It is indicated for sensitive, normal or very dry skin.
Contains retinol. Indicated in pregnant women only after medical advice.
Every night, your skin is naturally regenerated, nourished, moisturized, soothed to help you to prevent the premature ageing and provide you an immediate feeling of well-being.
After the careful makeup removal and cleansing of your skin follows your new evening ritual: a caress of slide on the flexible airless pump (without contaminating your potion) delivers a dose ready to be uniformly applied to the face, neck and neckline.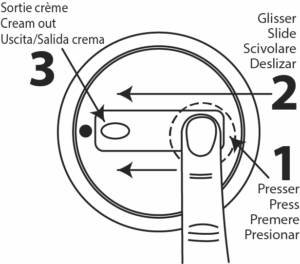 A sensual and hygienic touch on the flexible pump delivers an accurate dose with the certainty to obtain a restitution rate of more than 95 %.
During the first application, it is sometimes necessary to repeat this gesture to start the system which provides you with the desired dose.
Your potion remains protected from the ambient air and microbial contamination in its magic case. It thus preserves all its functional (notably conservation of the integrity of vegetable oils and vitamins) and sensory qualities. Do not remove the top membrane not to contaminate it.
The mesmerizing texture of this delicate formula provides you with an immediate and pleasant sensation of well-being. Your skin is naturally soothed, moisturized, nourished and helped in its night work of repair and detoxification.
Store preferably between 4 and 30°C.
SORTING INSTRUCTIONS

Together reduce the environmental impact of packaging
L'Ïncantore thanks you for following the underlying instructions regarding your empty packaging:
Case, leaflet, jar and lid in sorting bin
Check the provisions of the municipality
Related products
49,80

€

Rated 5 out of 5 based on 14 ratings

22,00

€

Rated 4.9 out of 5 based on 40 ratings

18,00

€

Rated 5 out of 5 based on 9 ratings