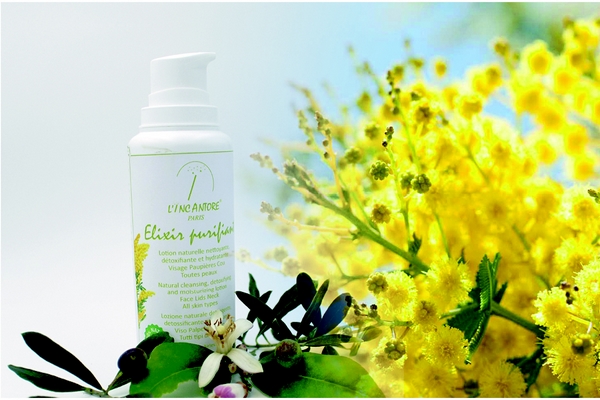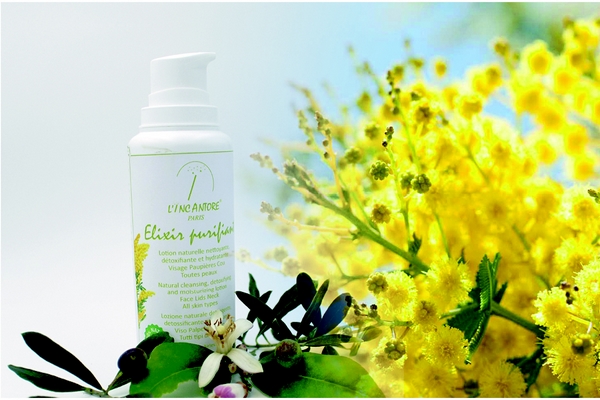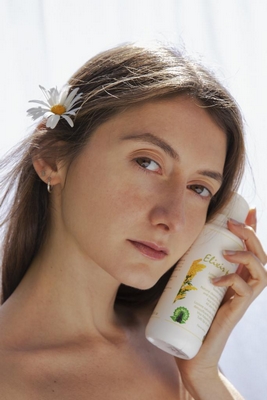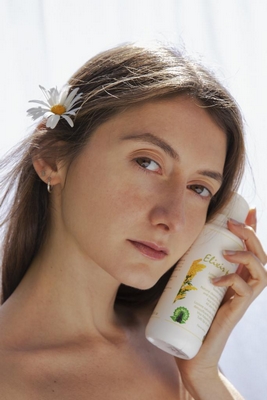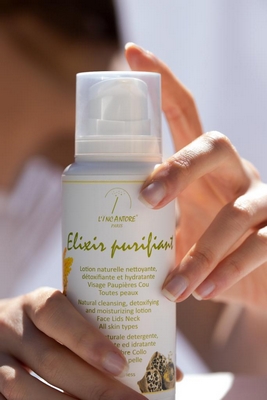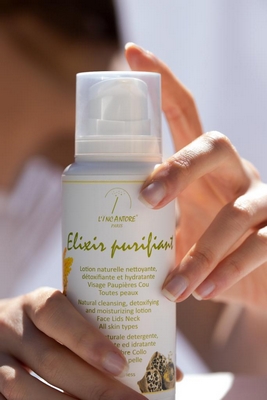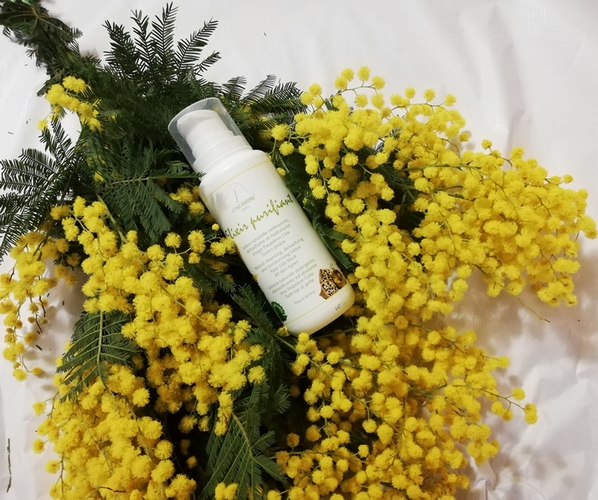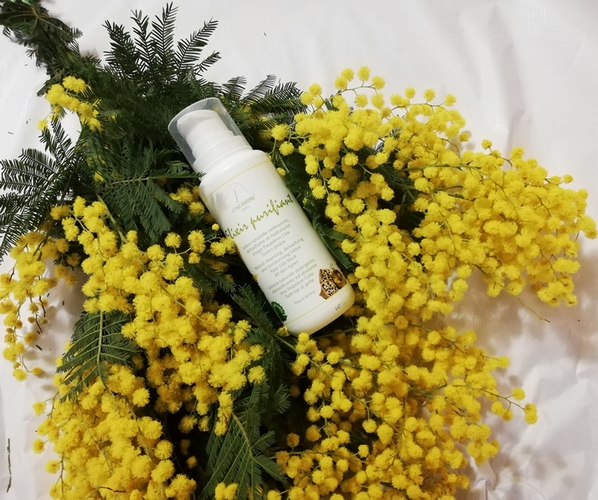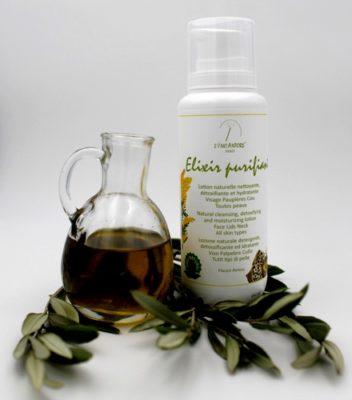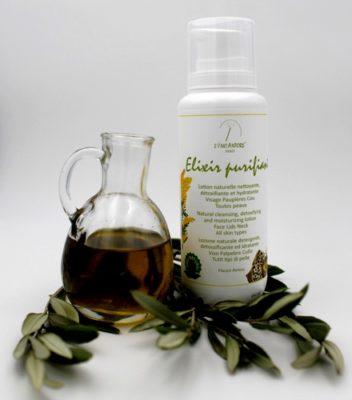 ELIXIR PURIFIANT
18,00 €.
Natural cleansing, detoxifying and moisturizing lotion for face, eyelids and neck
All skin types
100 % natural product according to the standard ICEA (Istituto per la CertificazioneEtica e Ambientale)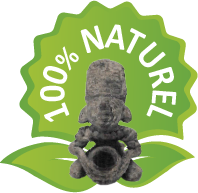 Hydrocarbon and animal derivatives free.Vegan-friendly
Note Yuka:EXCELLENT
Airless bottle ECOCERT 200 ml   GTIN 3770019433010
Lotion formulated in France and made in Italy
Description
100% natural cleansing, detoxifying and moisturizing lotion
Gentle and purifying plant extracts of the l'Ïncantore 's Elixir work in synergy to cleanse and detoxify your skin respecting its natural balance.
Thanks to its plant saponins and its extract of Moringa, this lotion removes make-up and all impurities, sebum, sweat, dead cells and polluting particles that asphyxiate and dull your skin daily. Moringa seeds facilitate particularly the removal of all polluting micro-particles coming from the environment.
Soothing, antiseptic, antioxidant and astringent, the mimosa extract helps your skin weakened by the environment to replenish itself by stimulating cell regeneration.
Sweet almond oil and olive oil reinforce the protective hydrolipidic barrier and will therefore moisturize, nourish, soothe and soften the most sensitive or reactive skin.
L'Elixir with the natural enchanting aroma of orange blossom and sage provides you a soothing moment and helps to preserve the hydration and radiance of your skin.
Sensoriality and comfort of application evaluated by a test of use in 20 volunteer women between 20 and 60 years old during 30 days of application:
19/20 women describe during application a very pleasant feeling and a soft fragrance
16/20 women describe during application a moisturizing effect
19/20 women describe after application a perfectly cleansed skin
100% natural ingredients
The oils used in the ELIXIR are exclusively vegetable, no refined mineral oil from the petrochemical industry, nor silicone oil or wax are used.
No animal ingredients are used. Vegan-friendly
No synthetic fragrance
The 100% natural fragrance combines softening and soothing orange floral water and relaxing sclaree sage extract.
This delicate formula needs an ultra-protective packaging protecting it from ambient air and external contaminations.
Ingredients:
Aqua, Glycerin, Prunus amygdalus dulcis oil, Arachidyl alcohol, Olea europaea fruit oil, Jojoba esters, Citrus aurantium amara flower water, Behenyl alcohol, Phenethyl alcohol, Zea mays oil, Caprylyl/capryl glucoside, Caprylyl glycol, Tocopherol, Caesalpinia spinosa gum, Arachidyl glucoside, Helianthus annuus seed wax, Polyglycerin-3, Lecithin, Mimosa tenuiflora bark extract, Salvia sclarea oil, Ascorbyl palmitate, Sodium phytate, Linalool, Citric acid, Dextrin, Moringa oleifera seed extract, Acacia concinna fruit extract, Balanites aegyptiaca fruit extract, Gypsophila paniculata root extract.
Ingredient in natural flagrance
As the list of ingredients used in products of l'Ïncantore can be updated, we recommend that you refer to the list on the packaging to ensure that the ingredients are suitable for your personal use.
In our modern world, our lifestyle, especially for those living in cities, can cause skin problems caused by stress and pollution.
Many pollutants, gases (carbon, sulfur, nitrogen) oxides, aromatic hydrocarbons, volatile organic compounds, fine or micro-particles in suspension, heavy metals (lead, mercury, etc.) and ozone attack the skin cells and generate free radicals.
These micro-particles particles coming from both home and industrial dust settle on our skin and trigger a series of reactions involving the production of many free radicals that promote inflammation with skin irritation but also acceleration of aging.
The skin is gradually asphyxiated, the complexion becomes dull. The production of sebum can increase with large pores that become blocked.  Itching sensations and redness may appear.
Day after day, our skin exposed to free radicals loses its hydration, firmness, elasticity, suppleness and radiance.
The essential facial neck ritual at the evening:
a gentle and careful cleansing preserving the hydrolipidic film
that naturally protects your skin from external aggressions.
Suitable for all skin types and specifically sensitive or reactive skin.
Thanks to your evening cleansing ritual, the skin is purified, free of all pollution particles, toxins, traces of makeup, perspiration, eventual excess sebum that asphyxiate the epidermis.
Cleansed, hydrated and soft, your skin will ideally absorb the other care.
Little more: The daily application of this purifying treatment provides you with a moment of comfort, a feeling of softness and helps to preserve the hydration and radiance of your skin.
Apply in the evening with a cotton pad on the face, eyelids and neck.
Renew application until cotton is clean.
Avoid contact with eyes.
With or without rinsing.
Store preferably between 4 and 30°C.
SORTING INSTRUCTIONS

Together reduce the environmental impact of packaging
L'Ïncantore thanks you for following the underlying instructions regarding your empty packaging:
Bottle, overcap eco-conceived Ecocert certified 100% recyclable in sorting bin
Check the provisions of the municipality
Related products
Out of Stock

49,80

€

Rated 5 out of 5 based on 7 ratings

49,80

€

Rated 5 out of 5 based on 14 ratings

22,00

€

Rated 4.9 out of 5 based on 40 ratings