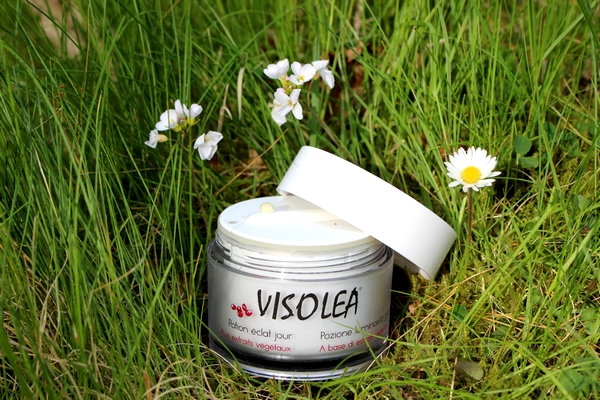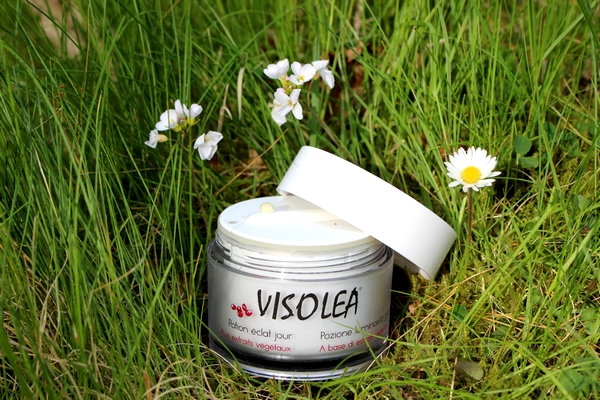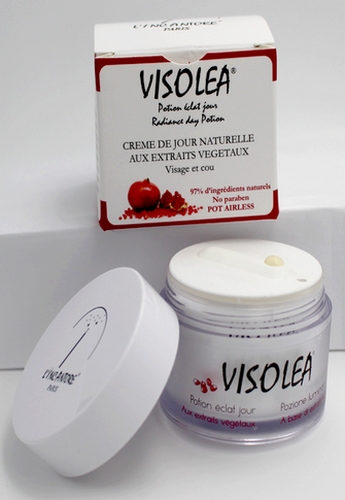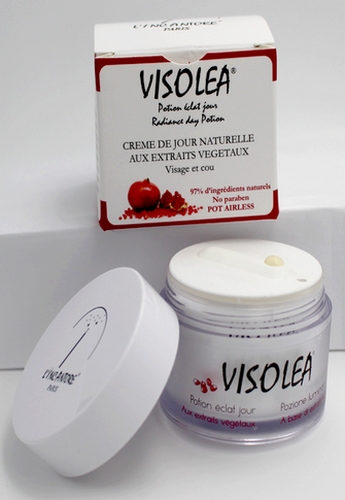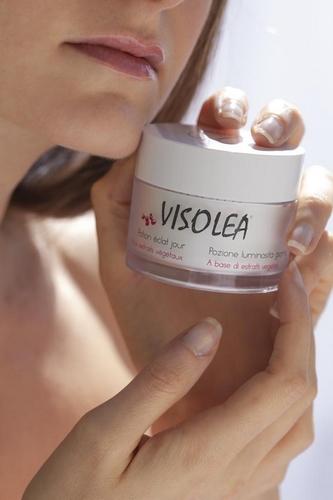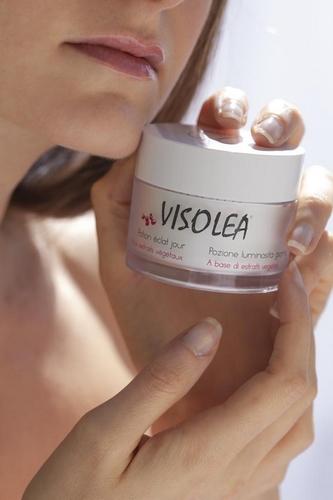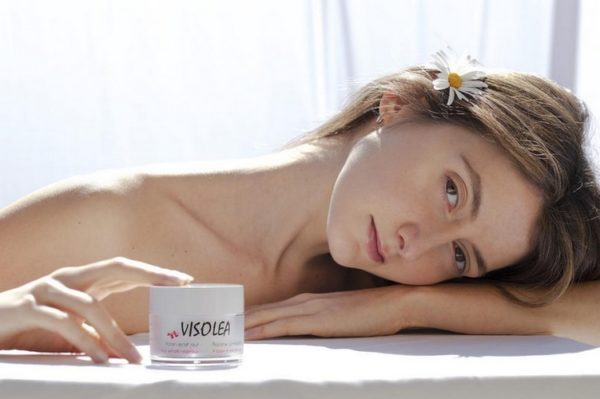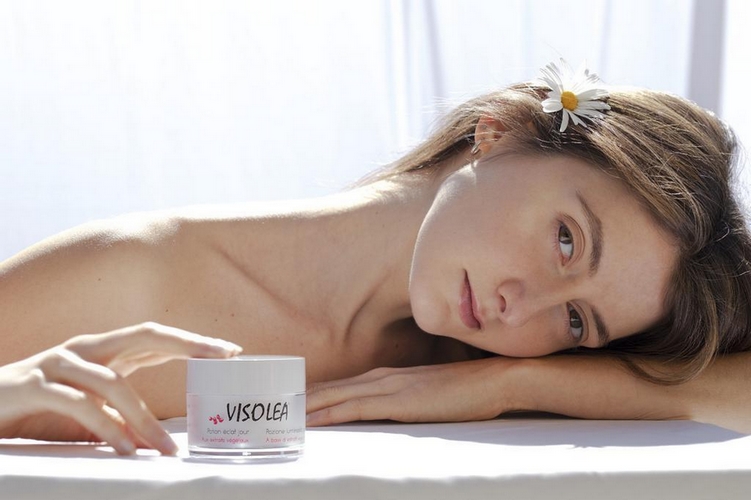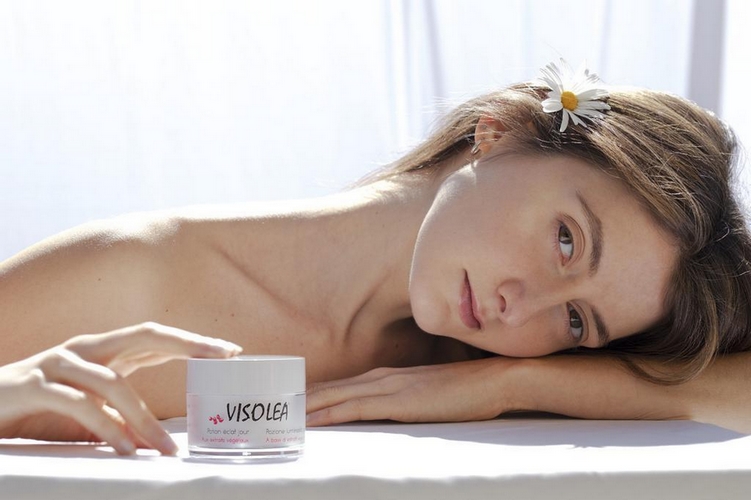 VISOLEA RADIANCE DAY POTION
49,80 €. From 2 Visolea Radiance day Potions bought, discount of 15 %  84,66 € the 2 jars !
Natural moisturizing, protective anti-aging day cream with plant extracts for face and neck
Sensitive skin
97% natural ingredients according to the standard ICEA (Istituto per la Certificazione Etica e Ambientale)
Hydrocarbon and animal derivatives free. Vegan-friendly
Note YUKA: 100/100
Airless jar 50 ml   EAN  3401360249967
Skin care formulated in France, made in Italy
Description
A vitaminic photoprotective cocktail of plant extracts to preserve the beauty and youth of your skin
The Day potion VISOLEA regenerates, protects the skin from damage of sun and environment thanks to the antioxidant and synergic properties of polyphenols of plant extracts, retinol, vitamins C, E and maintains its hydration thanks to vegetable oils, shea butter and a powerful plant moisturizing agent, preserving its natural radiance and tonicity.
Sensoriality and comfort of application evaluated by a test of use in 39 volunteer women between 18 and 80 years old with dry skin during 30 days of morning application:
Pleasant and/or immediate feeling of comfort upon application for 100% women
Hydration maintained by VISOLEA Day alone until the evening in 89,7% women
Comfort described all day in 92.3% women
L'Ïncantore suggests helping naturally the skin regeneration (cell renewal) using substances produced from Nature.
97% of natural ingredients
The oils and wax used in VISOLEA Day are exclusively vegetable, no refined mineral oil from the petrochemical industry, nor silicone oil or wax are used.
No animal ingredients are used. Vegan-friendly
No fragrance
The plant active ingredients give the potion its natural aroma and colour which can vary depending on the batch.
Visolea Day is not recommended in pregnant women (contains retinol).
The vegetable oils (olive, pomegranate, argan), vegetable wax and shea butter contained in this skin care naturally enhance the hydration and protection of our skin.
Result: elastic, supple and soft skin observed by 34 women during a 30-day morning application test in 34 women between 30 and 60 years old with dry skin.
The similarity of its composition to the one of sebum thanks to its high contents in squalenes, its optimal contents inunsaturated fatty acids and its wealth in antioxidizing substances: carotenoids, vitamin E, phenols, phytosterols and chlorophyll, make it particularly able to protect naturally our skin.The olive oil we use is produced in Italy in a small family farm with traditional methods and it is certified biological.
Pomegranate oil containing in particular phytosterols, polyphenols, vitamin E, punicic acid has a stimulating action promoting cell renewal. Its anti-radical action helps to fight the effects of UV and pollution to fight premature ageing of the skin.
Argan oil helps to provide our skin tone and radiance.
The presence of a complex sugar of plant origin stemming from the seed of tamarin, supplies naturally our skin with high moisturizing and softness.
The synergy of Visolea Day polyphenolic and vitamin antioxidants helps to slow down premature skin aging.
The formulation includes many polyphenols that protect us from cell oxidation and glycation responsible for skin aging.
In addition, the absorption capacity of some of the ultraviolet rays by vegetable oils and polyphenols helps to reduce inflammation, oxidative cellular damage to the skin.
However, it is necessary to apply a complementary protective cream with index adapted to our skin type to protect us from sunburn.
To enhance the antioxidant effects of polyphenols, VisoleaDay supplies us with a photoprotective antiradical vitamincocktail: retinol, vitamins C and E.
Vitamins help to stimulate cell renewal and collagen production, unify the complexion, improve skin microcirculation and strengthen the skin's antioxidant capacity against free radicals and ultraviolet rays.
Ingredients:
Aqua, Glycerin, Dicaprylyl carbonate, Diheptyl succinate,  Butyrospermum parkii butter, Candelilla/jojoba/rice bran polyglyceryl-3 esters, Olea europaea fruit oil, Sodium gluconate, Hydroxyethylcellulose, Capryloyl glycerin/sebacic acid copolymer, Cetearyl alcohol, Glyceryl stearate, Punica granatum seed oil, Helianthus annuus seed oil, Benzyl alcohol, Lecithin, Tocopherol, Argania spinosa kernel oil, Phyllanthus emblica fruit extract, Pongamol, Ricinus communis seed oil, Sodium ascorbyl phosphate, Sodium stearoyl lactylate, Resveratrol, Hydrogenated castor oil, Xanthan gum, Lactic acide, Copernicia cerifera cera, Tamarindus indica seed polysaccharide, Acrylates/C10-30 alkyl acrylate crosspolymer, Camellia sinensis leaf extract, Cellulose gum, Glycine soja oil, Retinol, Chitosan, Croton lechleri resin extract, Curcuma longa root extract, Dehydroacetic acid, Punica granatum extract, Ascorbyl palmitate, Citric acid.
As the list of ingredients used in products of l'Ïncantore can be updated, we recommend that you refer to the list on the packaging to ensure that the ingredients are suitable for your personal use.
Visolea Radiance Day Potion is a natural moisturizing, protective anti-aging day cream
for face and neck.
It is indicated for sensitive and dry skin at any age.
Contains retinol. Indicated in pregnant women only after medical advice.
No perfume was added to the formula to prevent allergic reactions.
The natural anti-oxidant extracts of this anti-ageing care moisturize and regenerate your skin by protecting it from the harmful effects of free radicals responsible for skin ageing.
VISOLEA radiance Day potion protects your skin from oxidative stress: it helps maintain elasticity, firmness, suppleness and radiance.
It is necessary to apply a complementary skin protection cream with an adapted index according to your skin type to protect you from sunburns.
The local application of moisturizing and antioxidant active ingredients joined with a healthy lifestyle, in particular with a balanced and diversified diet (don't forget that your skin is the reflection of your intestinal wall) seems to be a well-balanced and healthy strategy to regenerate your skin.
Thanks to your new morning rite, a caress of slide on the flexible airless pump (without contaminating your potion) delivers a dose ready to be uniformly applied to the cleansed face and neck.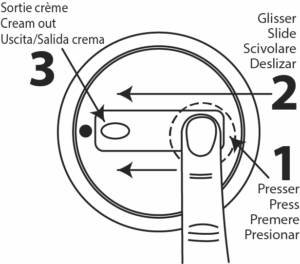 A sensual and hygienic touch on the flexible pump delivers an accurate dose with the certainty to obtain a restitution rate of more than 95 %.
During the first application, it is sometimes necessary to repeat this gesture to start the system which provides you with the desired dose.
Your potion remains protected from the ambient air and microbial contamination in its magic case. It thus preserves all its functional (notably conservation of the integrity of vegetable oils and vitamins) and sensory qualities.Do not remove the top membrane not to contaminate it.
The smooth and precious texture of this delicate formula provides you with an immediate and pleasant sensation of comfort. Your skin is naturally moisturized, supple, soft, radiant and fed all day long.
After a few minutes, the application of VISOLEA can be followed by the application of your usual foundation cream.
Store preferably between 4 and 30°C.
SORTING INSTRUCTIONS

Together reduce the environmental impact of packaging
L'Ïncantore thanks you for following the underlying instructions regarding your empty packaging:
Case, leaflet, jar and lid in sorting bin
Check the provisions of the municipality