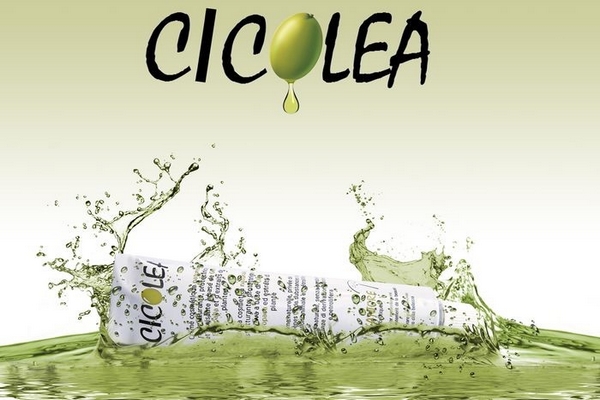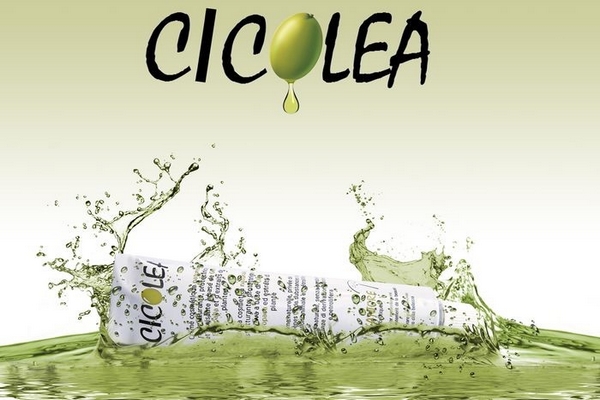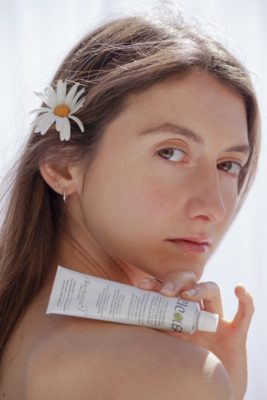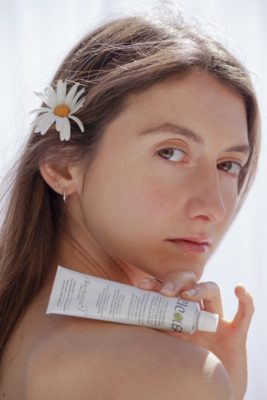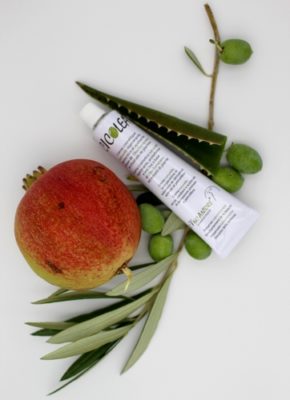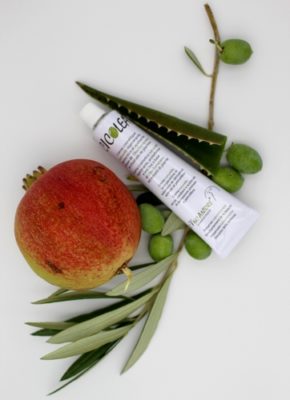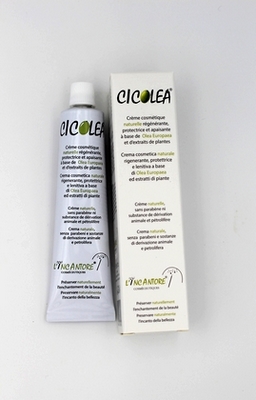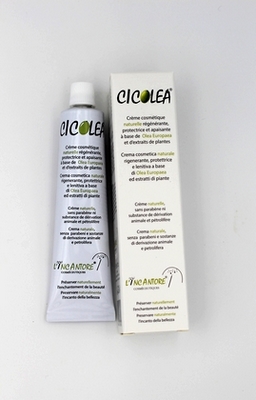 CICOLEA
22,00 €. Discount of 10 % from the purchase of 4 tubes, so 19,80 € each one

L'Ïncantore loyalty program: 1 tube offered from 10 tubes purchased.
Regenerating, protective and soothing natural cosmetic cream based on -Olea Europaea- and plant extracts
99,85 % natural ingredients according to the certification ICEA (Istituto per la Certificazione Etica e Ambientale)
Hydrocarbon and animal derivatives free.Vegan-friendly
Fragrance-free, colorant free
Note YUKA: 100/100
Tube 30 ml   EAN  3401341235095
Skin care formulated in France, made in Italy
Description
CICOLEA is a regenerating and moisturizing cream formulated on a base of biological olive oil. The synergic action of plant extracts, vitamins C and E, retinol increases the regenerative, antioxidant and soothing effects of the olive oil by occurring in the various phases of the cell renewal.
Sensoriality and skin tolerability tested in 70 healthy and informed volunteers (men and women) after 30 days of application to healthy skin:
Texture and fragrance appreciated in over 80% subjects
Immediate pleasant sensation of comfort in 90% subjects
"Very satisfactory" skin regeneration assessed for 92% subjects
98.5% subjects did not report secondary reactions
1 subject described tingling/itching-like side effects following premature application of CICOLEA in post-ablative laser
1 subject described redness following a known allergy to olive oil
95% subjects recommend CICOLEA to those around them
L'Ïncantore proposes helping the natural stages of cutaneous regeneration process using components from Nature.
Aim of the formulation:  obtaining the regulation of biological process physiologically activated in the damaged skin reconstitution to obtain a tissular regeneration with the minimum of signs.
99,85 % natural ingredients
The oils and wax used in CICOLEA are exclusively vegetable, no refined mineral oil from the petrochemical industry, nor silicone oil or wax are used.
The olive oil used is produced in Italy in a small family farm according to traditional methods and is certified organic.
No animal ingredients are used. Vegan-friendly
The plant active ingredients give the product its natural aroma and colour which can vary depending on the batch.
Fragrance-free, colorant free
Ingredients:
Aqua, Olea europaea fruit oil, Glycerin, Aloe barbadensis gel, Butyrospermum parkii butter, Candelilla/jojoba/rice bran polyglyceryl-3 esters, Ricinus communis seed oil, Hydroxyethylcellulose, Hydrogenated castor oil, Cetearyl alcohol, Glyceryl stearate, Punica granatum seed oil, Zinc oxide, Copernicia cerifera cera, Phenethyl alcohol, Caprylyl glycol, Echinacea angustifolia extract, Hypericum perforatum extract, Sodium ascorbyl phosphate, Sodium stearoyl lactylate, Camellia sinensis leaf extract, Xanthan gum, Croton lechleri resin extract, Helianthus annuus seed oil, Acrylates/C10-30 alkyl acrylate crosspolymer, Cellulose gum, Glycine soja oil, Retinol, Chitosan, Sodium phytate, Maltitol, Lecithin, Curcuma longa root extract, Tocopherol, Ascorbyl palmitate, Punica granatum extract, Citric acid.
As the list of ingredients used in products of l'Ïncantore can be updated, we recommend that you refer to the list on the packaging to ensure that the ingredients are suitable for your personal use.
Cosmetic treatment of skin and mucous membranes when it's necessary to help the cellular regeneration:
– dry and weeping skin alterations
– mucous membranes alterations
– quality and suppleness scar improvement
– cutaneous laxity
– prevention and treatment of stretch marks
– after aesthetic treatment or surgery according to medical advice
– moisturizing, nutritive and soothing, all the more after sun or cold exposure.
Apply to the altered areas, after cleansing and drying, one time to twice a day according to necessity until complete restoring.
Avoid contact with eyes.
Do not use in children under 36 months without medical authorization.
Contains retinol. Not recommended in pregnant women and during lactation on the nipple.
Store preferably between 4 and 30°C.
SORTING INSTRUCTIONS

Together reduce the environmental impact of packaging
L'Ïncantore thanks you for following the underlying instructions regarding your empty packaging:
Recyclable case, tube and cap in sorting bin
Check the provisions of the municipality